PVQ variable piston pump
Product Detail
Product Tags
 

 

Model Series

Maximum Geometric Displacement

cm3/r (in3/r)

 

Rated Speed

r/min

 

Maximum Pressure

bar (psi)

 

 

Page

 

PVQ10

 

10,5 (0.643)

 

1800

 

210 (3000)

 

2

 

PVQ13

 

13,8 (0.843)

 

1800

 

140 (2000)

 

2

 

PVQ16

 

16,0 (0.976)

 

1800

 

210 (3000)

 

13

 

PVQ20

 

21,1 (1.290)

 

1800

 

210 (3000)

 

17

 

PVQ25

 

25,2 (1.540)

 

1800

 

210 (3000)

 

29

 

PVQ32

 

32,9 (2.010)

 

1800

 

140 (2000)

 

17

 

PVQ40

 

41,0 (2.500)

 

1800

 

210 (3000)

 

39

 

PVQ45

 

45,1 (2.750)

 

1800

 

186 (2700)

 

39

 

PVQ63

 

63,0 (3.844)

 

1800

 

210 (3000)

 

55

 

EDQ-L-30 Amplifier/Controller

 

 

 

 

61

 

Application Data

 

 

 

 

65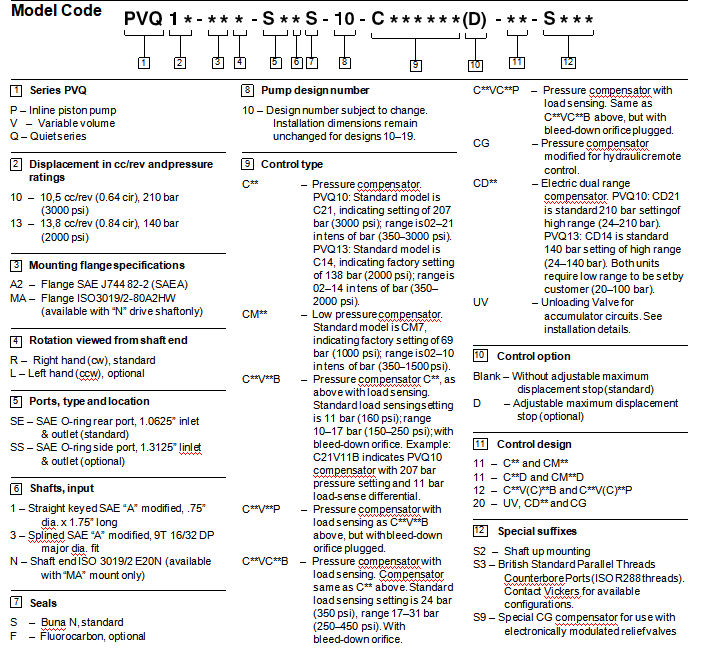 Features of PVQ series plunger pump:

1. The PVQ series plunger pump is a straight-shaft variable pump with 9 specifications. Variables are controlled by pressure and /. There are a variety of control methods to choose from, providing maximum work flexibility. Or flow compensator

2. PVQ series plunger pumps have low operating noise and can meet today's demanding industrial conditions. The noise level of each pump is close to or lower than the noise that drives the pump motor. The noise is reduced by the patented timing configuration, and this measure also makes the pressure "pulsation" in the output flow very small. This makes it possible to reduce noise in systems using PVQ plunger pumps.

3. The PVQ series plunger pump can use various types of hydraulic fluid to work. In addition to typical petroleum-based hydraulic oils and synthetic hydraulic oils, it can also be adapted to aqueous hydraulic fluids and phosphatidic acid hydraulic fluids.

4. The PVQ series plunger pump has a through-shaft drive scheme to meet the needs of multiple pumps and installation. The through-shaft drive pump can be equipped with various types of fixed pumps and variable pumps of different specifications to form a compact and flexible component. Such components are less expensive to set up because the size of the device is reduced and only one mounting seat on the prime mover is required.

5. Low noise PVQ series plunger pump has excellent working characteristics, and the complete variety of control methods and installation forms make it possible to select the most suitable model for any application. Furthermore, the durability and long-life characteristics of PVQ plunger pumps are comparable to the best industrial products on the market today.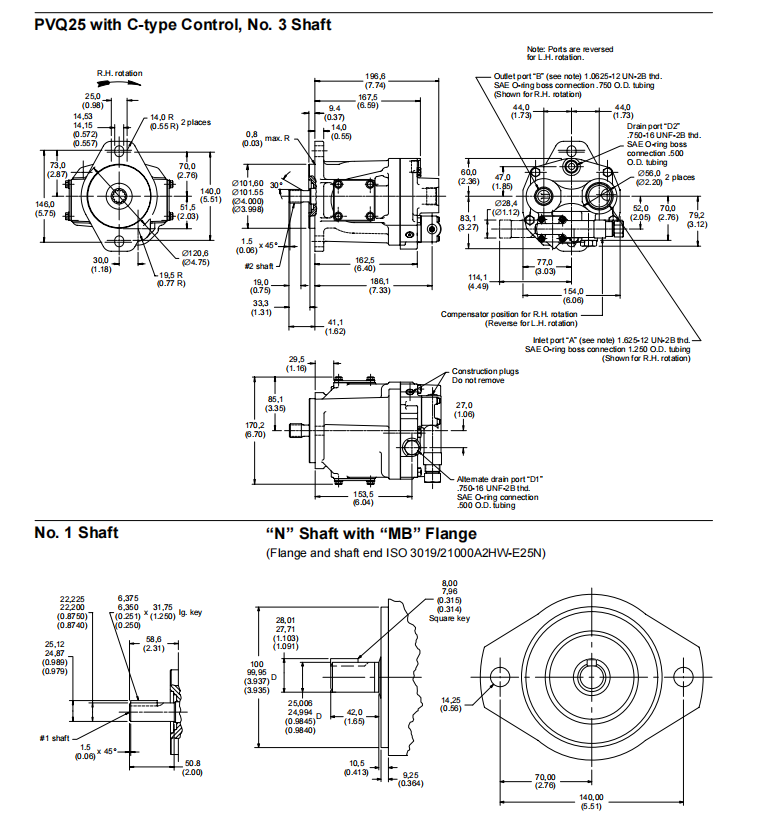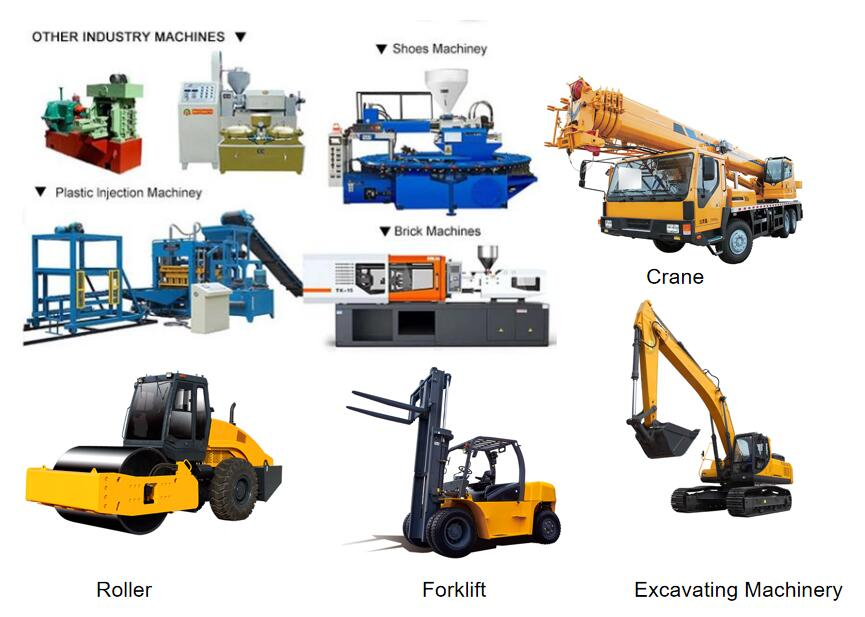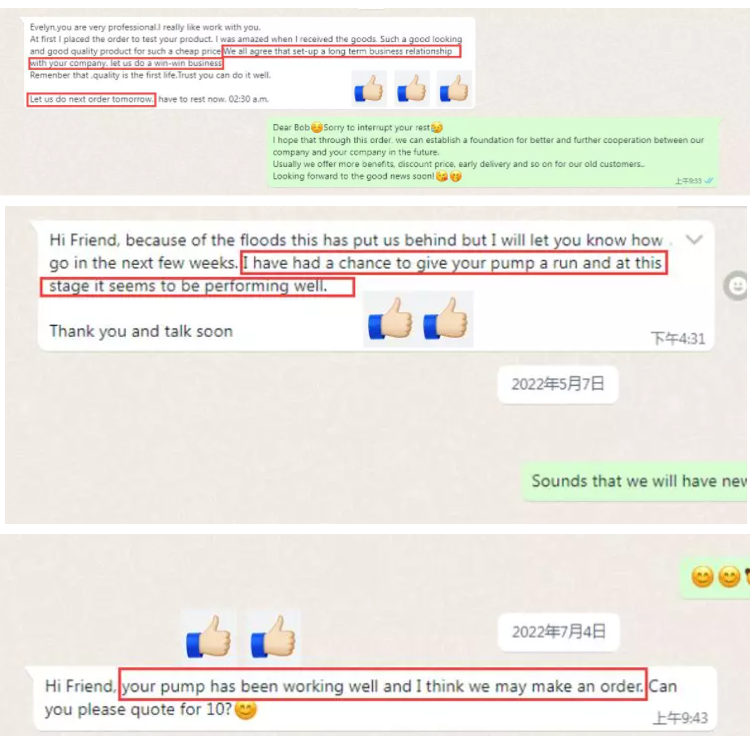 Q: Are you trading company or manufacturer?
A: We are manufacturer.
Q: How long is the Warranty?
A: One-year warranty.
Q: What is your payment terms?
A: 100%  in advance, long-term dealer 30% in advance, 70% before shipping.
Q: How about the delivery time?
A: Conventional products take 5-8 days, and unconventional products depend on the model and quantity
---
---