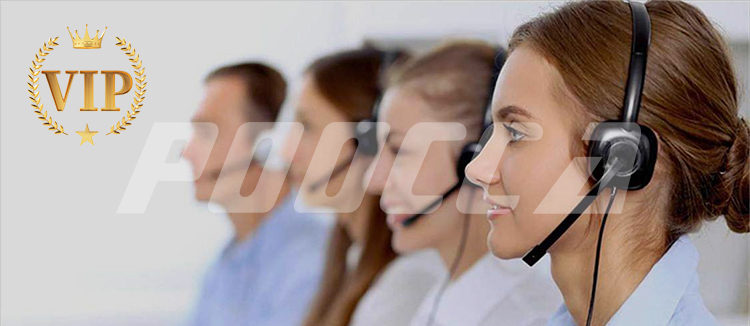 POOCCA Online Customer Service Team 
Pre-Sales Service: Prompt, professional response to inquiries, detailed product information and assistance in selecting the most appropriate hydraulic solution for a specific application. You'll be given guidance on product compatibility, performance optimization, and cost-effectiveness to ensure you make informed buying decisions.
After sales support:They provide timely and efficient assistance in case of product issues, troubleshooting or warranty claims. Our poocca customer service team will be approachable and responsive, addressing concerns and resolving issues promptly.
Delivery time: poocca has an efficient logistics and supply chain management system to ensure timely dispatch and delivery of products. We will provide accurate lead time estimates, proactively communicate any potential delays, and take necessary steps to minimize disruption. Additionally, we can offer expedited shipping options for rush orders, enabling you to receive your product within the requested time period.
Industrial Machinery: Hydraulic pumps are used in various industrial machines, such as hydraulic presses, injection molding machines, and metal forming machines. They provide the required force for shaping, molding, and pressing operations.
Construction Equipment: In construction, hydraulic pumps power heavy machinery like excavators, loaders, bulldozers, and cranes. They enable these machines to lift and move heavy loads with ease.
Automotive Industry: Hydraulic pumps are employed in automotive power steering systems to assist the driver in turning the wheels more effortlessly.
Agriculture: Agricultural equipment like tractors and harvesters use hydraulic pumps to control attachments and perform farming operations efficiently.
Marine: Hydraulic pumps are utilized in various marine applications, including steering systems, bow thrusters, and winches on boats and ships.
Oil and Gas: In the oil and gas industry, hydraulic pumps play a crucial role in well drilling, production, and transportation operations.
Mining: Hydraulic pumps are employed in mining equipment for tasks like rock drilling, ore extraction, and material handling.
Material Handling: Forklifts and other material handling equipment often rely on hydraulic pumps for lifting and moving heavy objects in warehouses and industrial facilities.
POOCCA has many certificates and honors:
Certificates: patent certificates for plunger pumps, gear pumps, motors, and reducers. CE,FCC,ROHS.Honors: counterpart support caring enterprises, honest enterprises, recommended procurement units for China-Africa economic and trade cooperation.